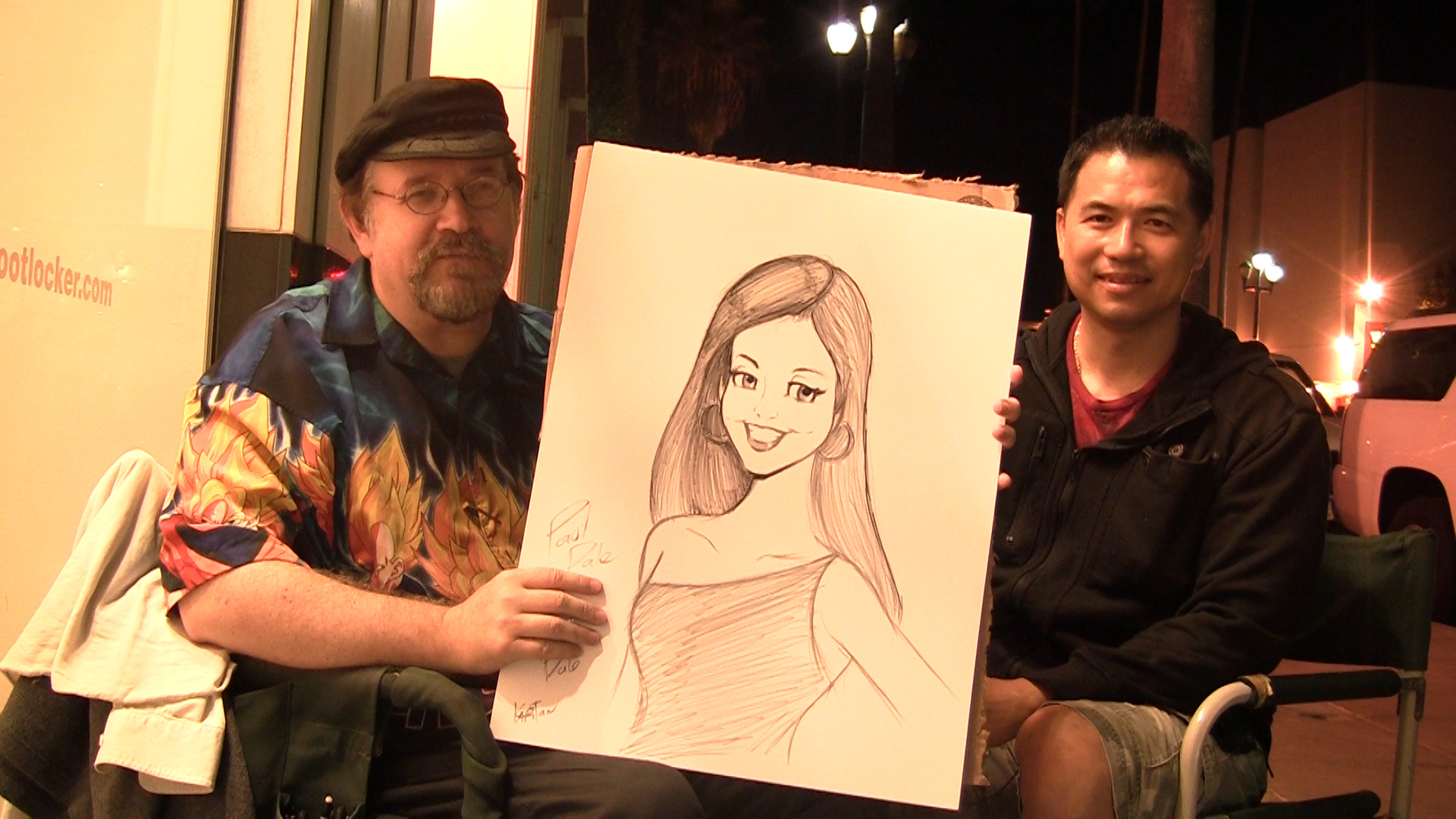 I was in the city of Santa Monica which is in the northern part of Los Angeles located in the state of California.
I was walking through a very popular tourist/shopping area called the Third Street Promenade and ran into a very interesting manga/anime artist named Paul Dale who goes by the nickname "Kapitan Kartoon".
(I believe the term "Kapitan" means "captain" in English.)
We had an interesting conversation about art and the Kapitan agreed to the following interview to share his knowledge and experience with other artists.
Here is the photo of my wife, Sasi, that Kapitan Kartoon used as a reference for the portrait: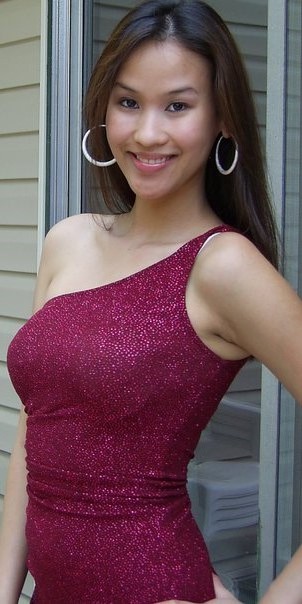 (1 of 15)
What Is Manga And Anime?
What Are Their Differences?
Manga and anime has always been an interesting art form to me. However, I have never really been able to distinguish the difference between the two.
In the first video, I get Kapitan Kartoon to explain what is manga and anime art.  Afterwards, he will explain the difference between manga and anime.
(2 of 15)
What Is The Difference
Between Manga And Anime
In The U.S. Vs. Japan?
I have heard of manga and anime art before but I never knew that there was a big difference between the American versus the Japanese version of manga and anime.
In this second video, I got Kapitan Kartoon to explain the differences between the American versus the Japanese version of this type of art.
(3 of 15)
Secrets To Drawing
Manga & Anime Faces 
In this third video, Kapitan Kartoon explains how he originally got into drawing manga and anime for living. It is interesting sometimes how the path that we take in our can just be sheer, random, luck.
He then goes on to explain the keys to success in drawing manga and anime faces and the key features that you want to emphasize on someone's face.
I find it interesting with what he says about ethnicity and how he does not place a lot of importance on a person's ethnicity when drawing manga or anime.
In my personal opinion, the hardest thing to do in arts is to capture the likeness of someone's face. This is pretty tough to do in a street environment because you do not have a lot of time to capture someone's likeness so it has to be done very quickly.
Therefore, I asked a lot of questions on how he sights the proportions in people's faces to capture an accurate likeness.
(4 of 15)
How To Exaggerate &
Sight Proportions Of
Manga & Anime Faces 
I am always fascinated at how the features of someone's face is massively exaggerated but the likeness of the individual can still be seen in the distorted image.
I wanted to know how this is done in caricature art so I asked the Kapitan what are the key features of someone's face that you want to exaggerate and still be able to capture the individual's likeness and still maintain a "comical" look.
I also asked him the exact method in which he is using the sight proportions of the face.
Is he sighting proportions internally in his head or is he doing it using his fingers, a pencil?
(5 of 15)
How To Capture Likeness
When Drawing Manga
& Anime Faces 
To me, the key to good caricature art is to be able to maintain the likeness of the individual while massively distorting their face.
In video #5, I dig deeper into what the Kapitan is focused on and what he tries to highlight in the portrait to capture likeness in someone's face.
The features of the face that he emphasizes is completely from what I normally try to emphasize when I am painting a regular, "traditional" portrait.
(6 of 15) How To Draw
Different Ethnicities
In Manga & Anime
Most beginning artist do not realize that the shapes portions of the human face is what determines the ethnicity of a person when drawing or painting portraits and not the darkness or likeness of a person's skin tone.
In video #6, I asked the Kapitan the different strategies he uses to capture the correct ethnicity of a person when he caricaturizes them.
(7 of 15)
What Pens & Brushes
Are Good For Drawing
Manga & Anime?
I strongly believe that using quality materials and supplies and dramatically enhance your artwork.
In this video, I asked the Kapitan to share his insights on the best tools to use when drawing manga and anime art so you don't have to waste time trying to figure it out.
You can also find links to the materials and supplies that he mentions on our Artist Hangout Materials page.
(8 of 15)
How to Draw Manga &
Anime By Doing & Feeling
There are two components to becoming a good artist.
The first component is the "technical" skills.  Whether you are a traditional artist who uses brushes or a modern artist who uses photoshop, you must know how to use your art tools to create your art.
The second component of a good artist is the "creative" side.  This is component that separates you from other artist.
It is very obvious that Kapitan Kartoon has put in thousands of miles with his brushes so his "technical" art skills are very superb.
In video #8, I get the Kapitan to discuss how he is "painting from the gut" to allow his creativity to flow into his brush and paper.
(9 of 15)
Tips For Capturing
Likeness When Drawing
Manga & Anime Faces 
In this video, the Kapitan shares some more tips for capturing likeness.
(10 of 15)
How To Create Depth &
Space When Drawing
Manga & Anime 
Unless you are sculpting and creating 3D art, most 2D art is nothing more then an illusion which tricks the observer's eye into believing that what they see on a flat piece of paper is actually "realistic".
There are many techniques in art to create the illusion of realism, depth and space.
I video #10, I get Kapitan Kartoon to share some of his techniques for creating depth and space in manga and anime art.
(11 of 15)
Tips For Drawing Manga
& Anime On A Flat Vs.
An Inclined Surface

In video #11, Kapitan Kartoon explains why he prefers to draw on a flat surface over an inclined surface.
(12 of 15)
How To Draw Teeth &
Makeup In Manga & Anime

In video #12, Kapitan Kartoon explains the finer details of drawing teeth properly in manga and anime without over-exaggerating it or making it look very creepy.
He also explains how the Japanese culture favors the "youthful" look so they tend to use makeup differently then the western cultures.
In video #12, Kapitan Kartoon references the popular animation, Attack On Titan, and I went to look it up on YouTube and discovered that they had made a live action movie from the anime.  I'm definitely going to check out the movie.  Here is the trailer which looked pretty cool:
(13 of 15)
What Is Your Experience
In Animation & What
Artists Do You Like?

In video #13, Kapitan Kartoon talks about his past experiences of working in the animation industry and how much it sucks and how he despises it.
I think the frustration came from the fact that his job was stifling his creativity.
You can't hold a creative artist down!
(14 of 15)
The Truth About Manga
& Anime Street Artists
& Their Customers

In video #14, Kapitan Kartoon tells the nasty truth of why he is a street artist.
He claims to do 10-15 portraits a day which is not bad.  At $10 each, that means you can make anywhere from $100-$150/day as a street caricature artist.
There are about 250 working days in a year.  That means you can earn anywhere from $$25,000-$37500/year as a street artist.  Which is not bad for someone who only works from 6pm-midnight!
This is not a bad income.  I believe the real income is much higher then that. If I had to guess, you can easily make over $50,000 USD per year with just a few shameless promotions of your artwork as people pass by.
Although it sounds like the Kapitan hates being a street artist, I really believe that deep down inside, he really enjoys doing it because he is a social person and loves to interact with the public and he gets paid for it all at the same time and he has no set hours that he has to work or clock in.
(15 of 15)
How To Contact
Kapitan Kartoon For
Your Manga & Anime Work

In this last episode of the interview, I got the Kapitan furious! Hahaha!!!
Because I accidently referred to him as "Captain Kangaroo"!  LOL!
He went BALLISTIC on me!  Hahaha!!!
Summary
I hope you guys enjoyed my first artist interview!
I'm really looking forward to doing more interviews with a wide variety of artists to help motivate and inspire you to create artwork that creates a positive impact on other people's lives!
Kapitan Kartoon recommends and believes we should have less artist in the world and I disagree.
I believe we should have more educated and technically trained artists so that they can truly produce world class art work.
The world already has enough crappy artists and I do not believe we need anymore of them.
Leave your questions, comments and suggestions for future videos below.
If you get motivated, inspired and always learn something new to improve your art skills from listening and watching other artists, be sure to check out the following artist interviews.
Click here for a list of all the Artist Interviews
Click here for a list of all the Street Artist Interviews or click the link below to watch the next episode:
Artist Interview #2 – Street Artist "Para"
The Godfather Of Apparel Art – Times Square, New York City