Viewing an artist's portfolio is cool but for me, I find it more helpful when I can view the progression that person goes through as they grow and mature as an artist.
My Early Years As
An Amateur Artist
In the beginning, I doodled and sketch like anyone else when I had the free time to draw: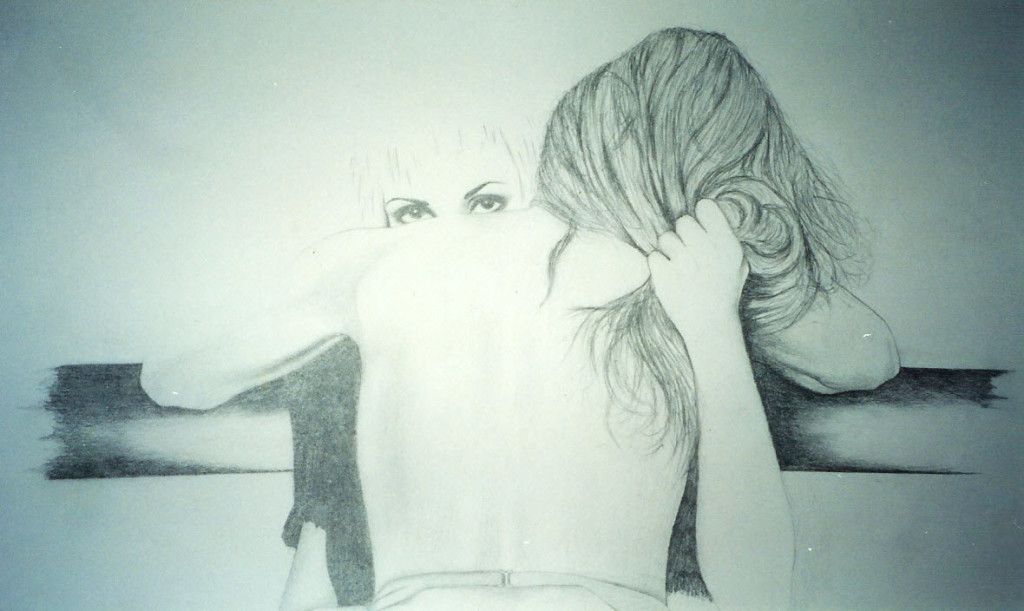 My Transition To
Becoming A Professional Artist
Hong was a girl I liked when I was young but the circumstances in my life at the time I met her prevented us from dating.
In my opinion, there are two distinct characteristics of a professional artist:
You have the ability to produce consistent and high quality artwork.
You are able to get PAID for your artwork.
In the past, I have been paid many times to create artwork for others but deep in my heart I never felt there was any consistency to my artwork.  It was just a hit or miss and most of it was just pure luck that I got it to look nice.
The lack of consistent quality in my artwork was very simple…
I have never been properly educated on how to create high quality art!  LOL!
I consider this charcoal of Hong in New York City to be my first and "official" professional piece of artwork because I was able to produce the same professional grade quality and consistency in all my artworks thereafter.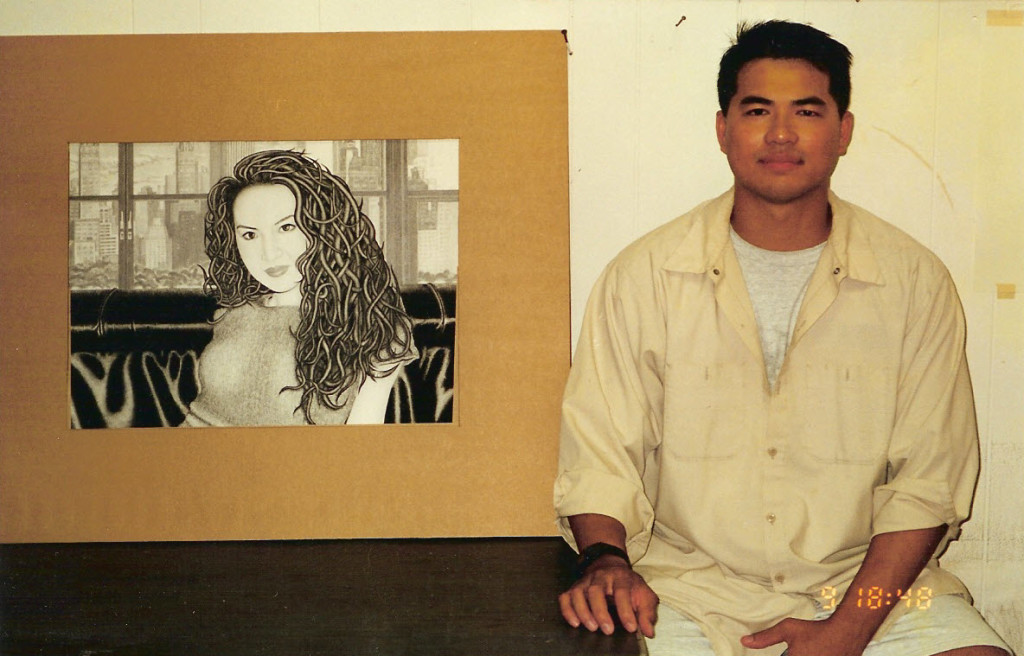 The increase in quality was the result of me taking the time to study and learn how to create quality artwork from other artists especially from the Renaissance Artists.
Graphite & Charcoal Portfolio
Here is a pencil portrait of the the most popular French model in Victoria Secret's lingerie catalog.  Her name is Laetitia Casta but I misspelled it because the guy who gave me her name spelled it wrong for me.
I drew her portrait to use as an example of the quality of my work so people could hire me to do their portraits.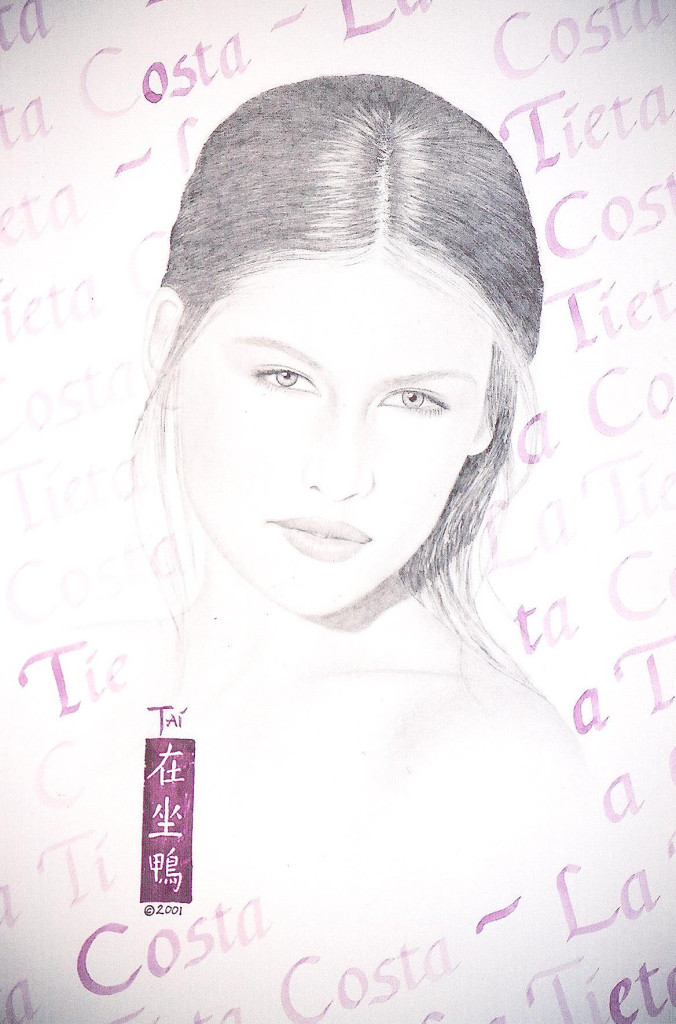 People who saw my Laetitia Casta sample started to hire me to do portraits of their family: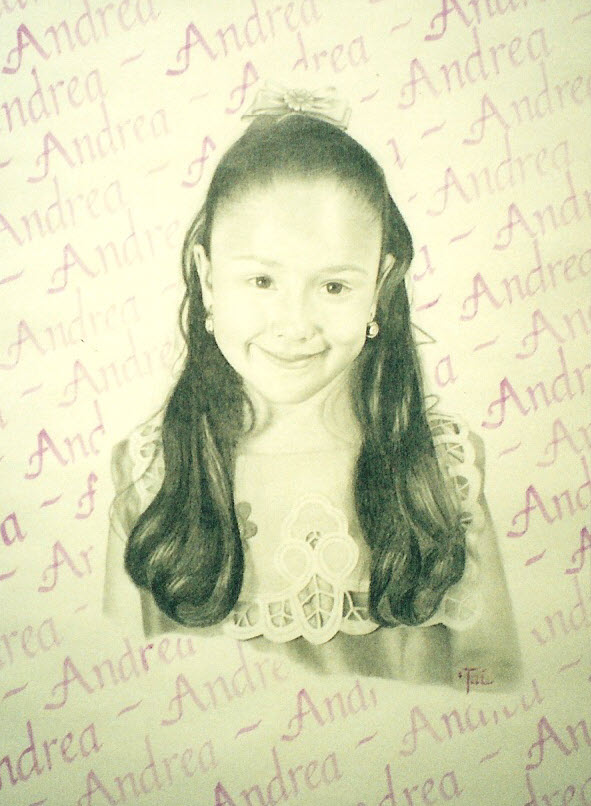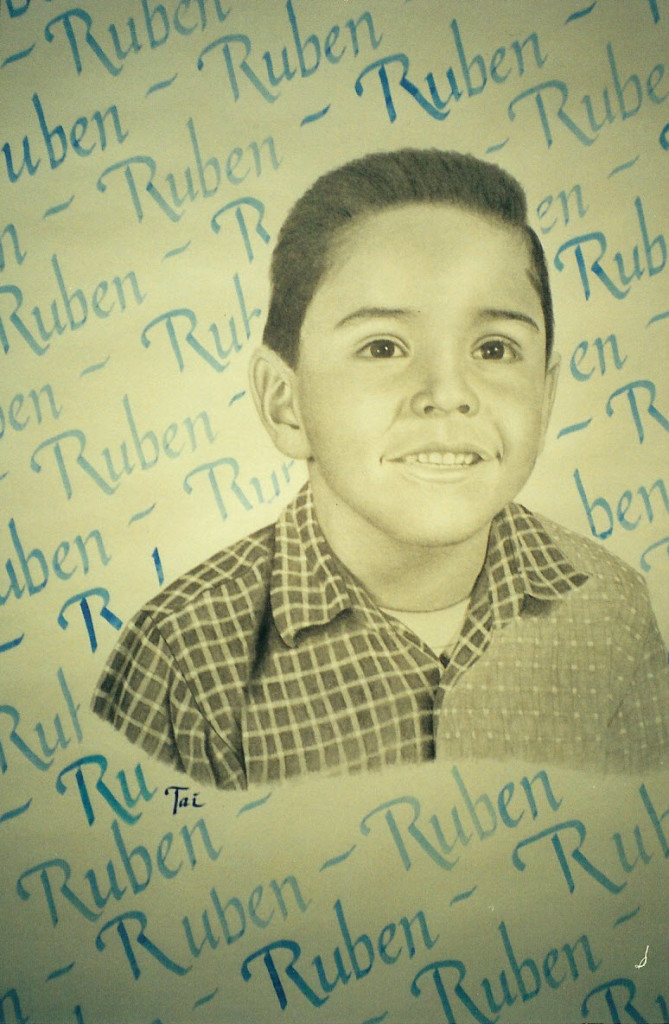 Many times in art, things just happen by accident.
When I originally did these portraits I had no intentions of writing the kid's names in italic calligraphy in the background but one parent saw me teaching my calligraphy class and asked m to include their kid's name in the background.
The italic calligraphy in the background is done in watercolor.
Afterwards, every client asked me to do the same for their kid's portrait as well!  LOL!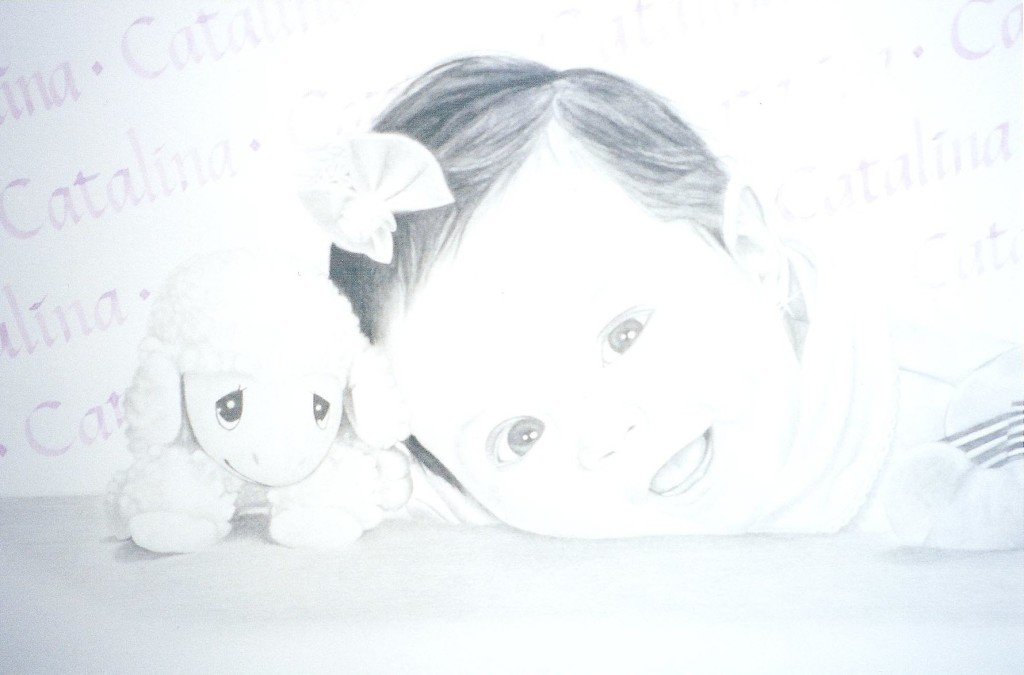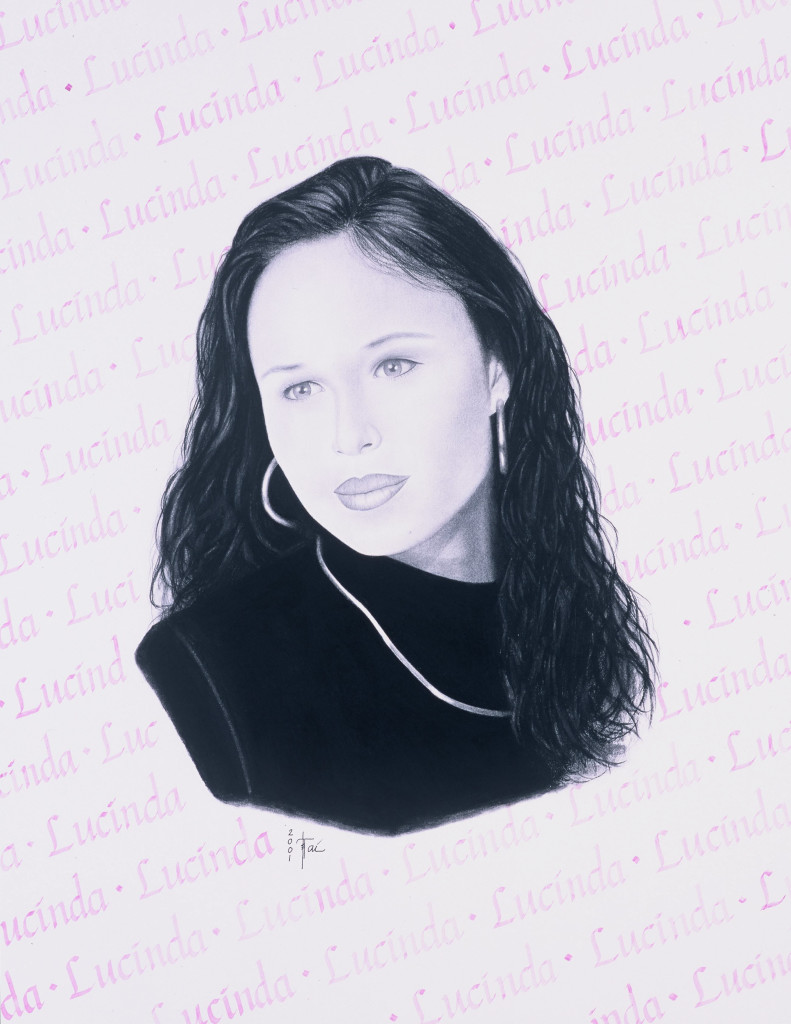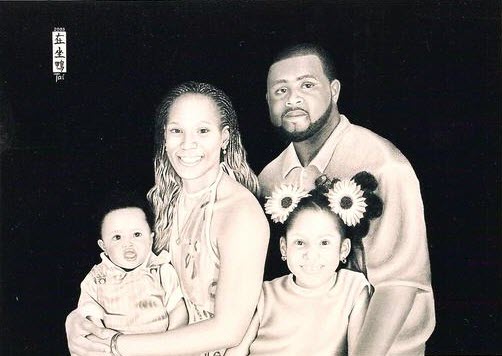 Wing Chun is a martial art invented by a woman to defeat a man that Bruce Lee studied.
I like Bruce Lee and  I like to study and practice Wing Chun.  The wooden dummy is a popular training device associated with Wing Chung used to practice your footwork, punches and blocks.  Here is a video of Jackie Chan practicing on the Wing Chun wooden dummy:
I like the Wing Chung martial art and I liked Hong when I was single so I combined them together in many pieces of artwork to illustrate the feminine history and beauty of Wing Chun.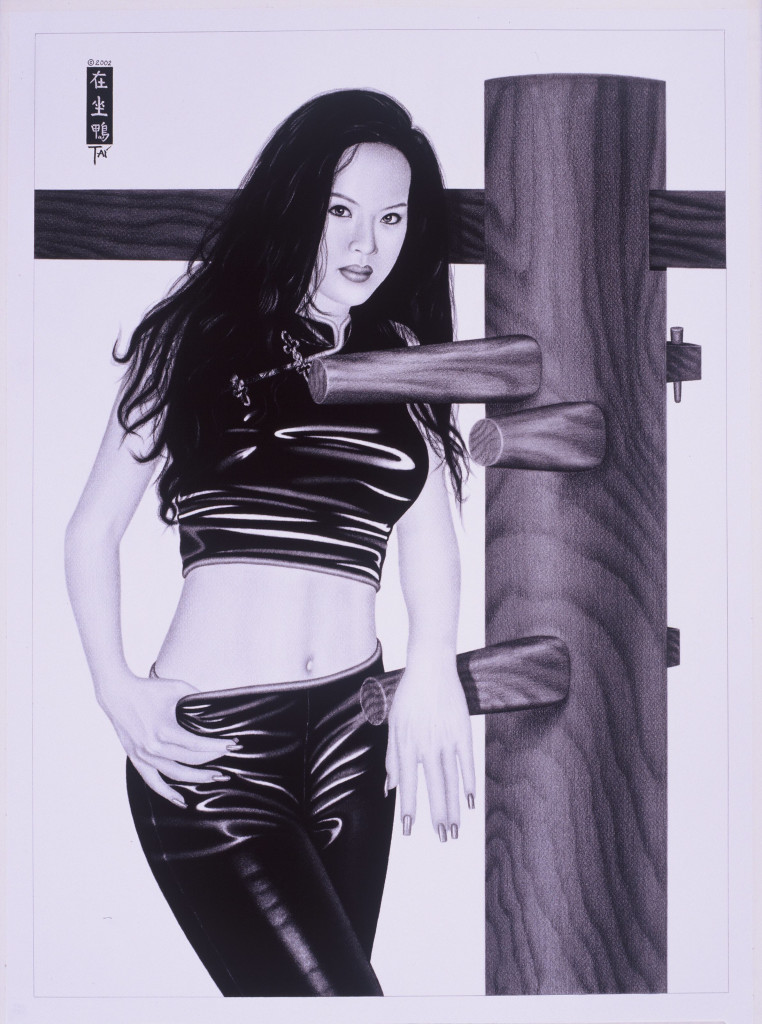 I like to use famous female celebrities in my art portfolio because people can recognize who they are and relate to it.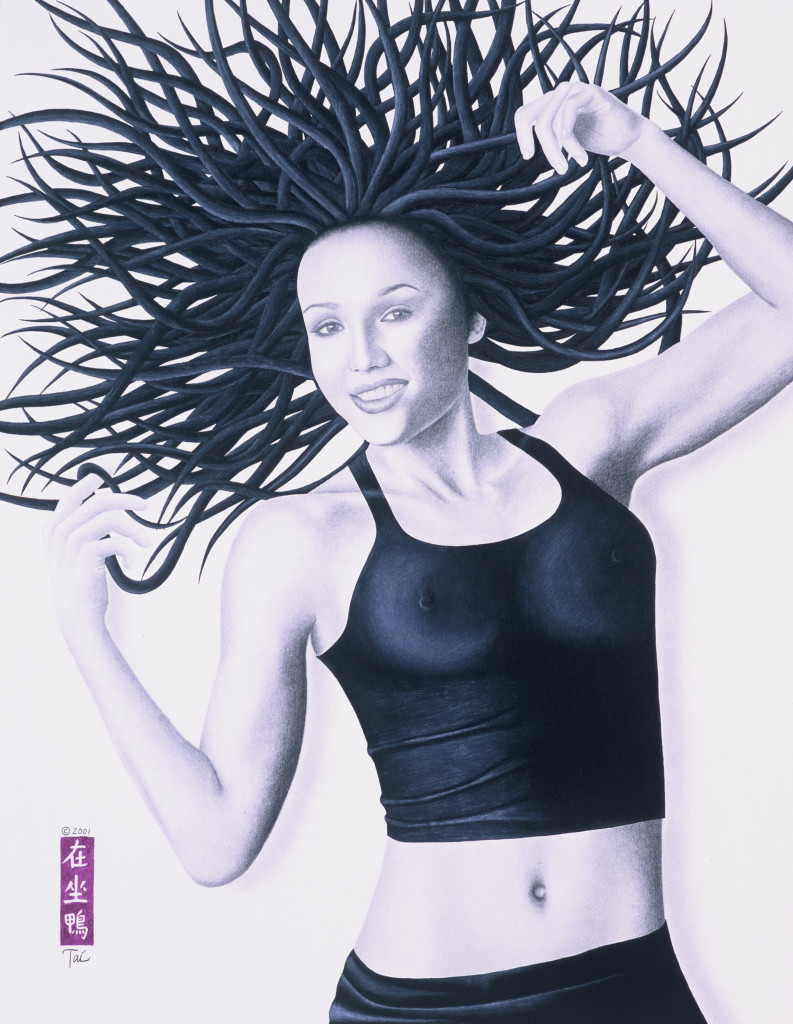 Pastel Portfolio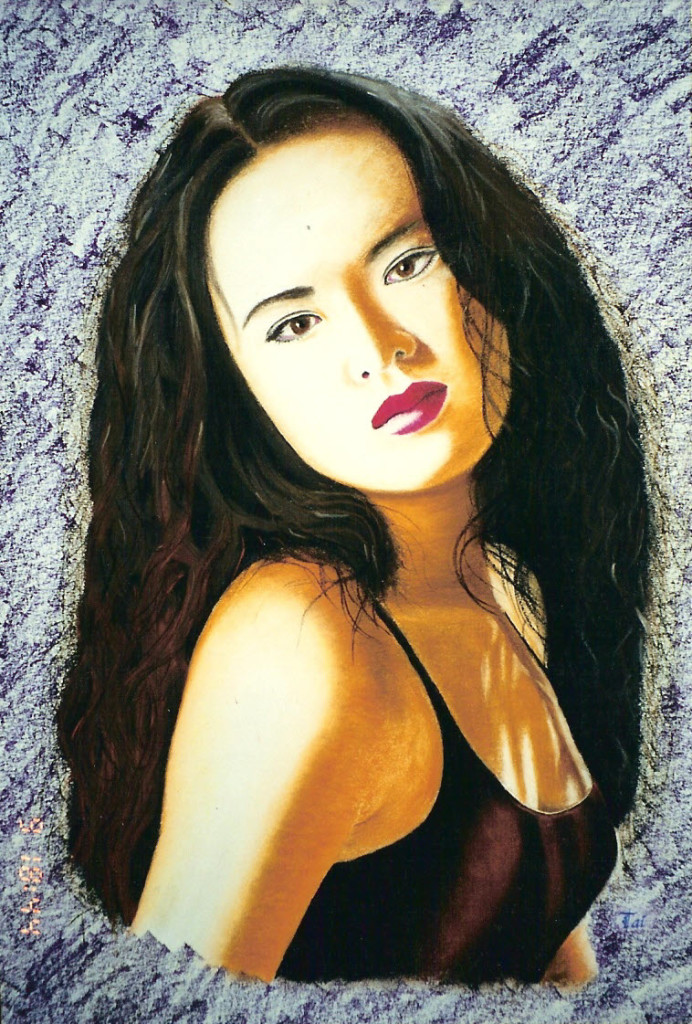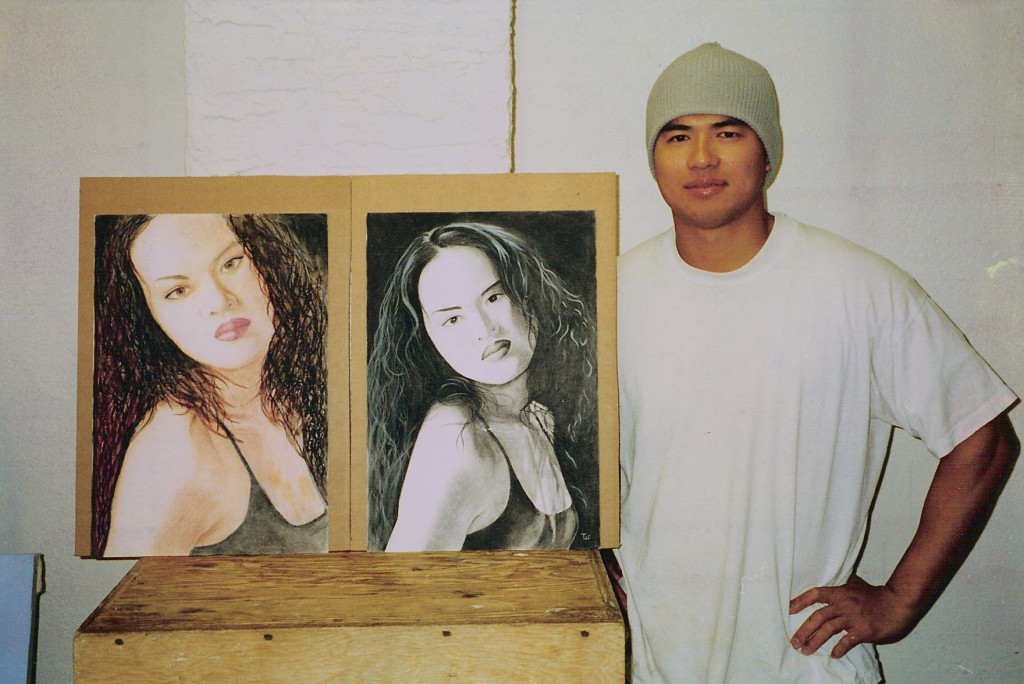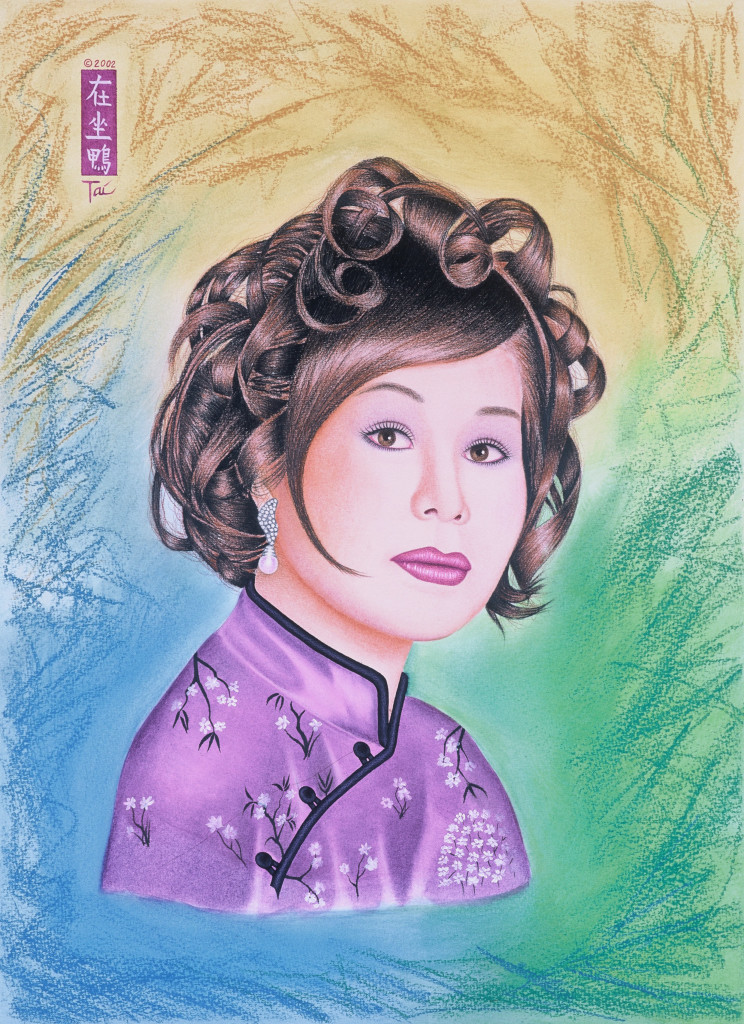 Mixed Media Portfolio
(Color Pencil, Ink, Pastel,
Watercolor, Acrylic, etc.)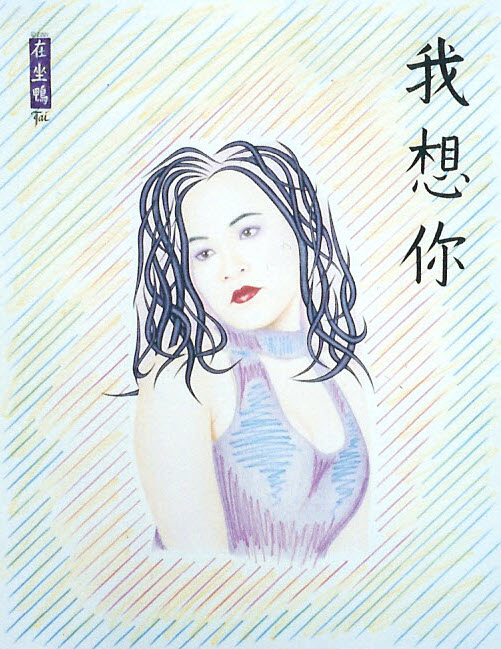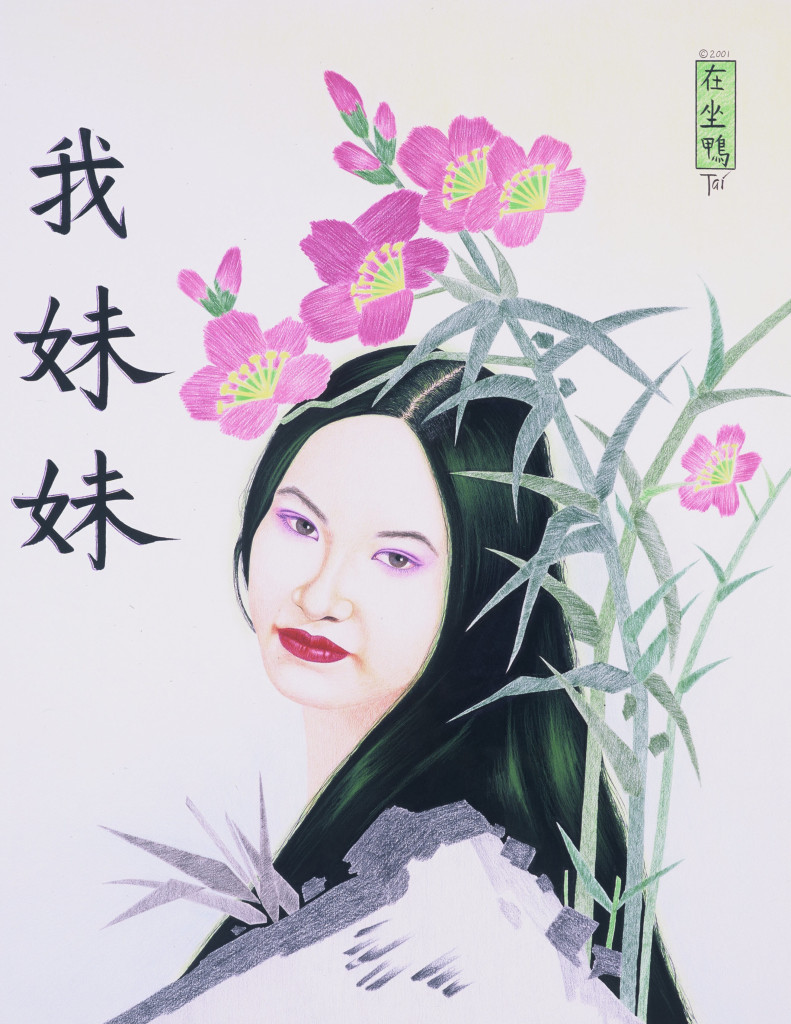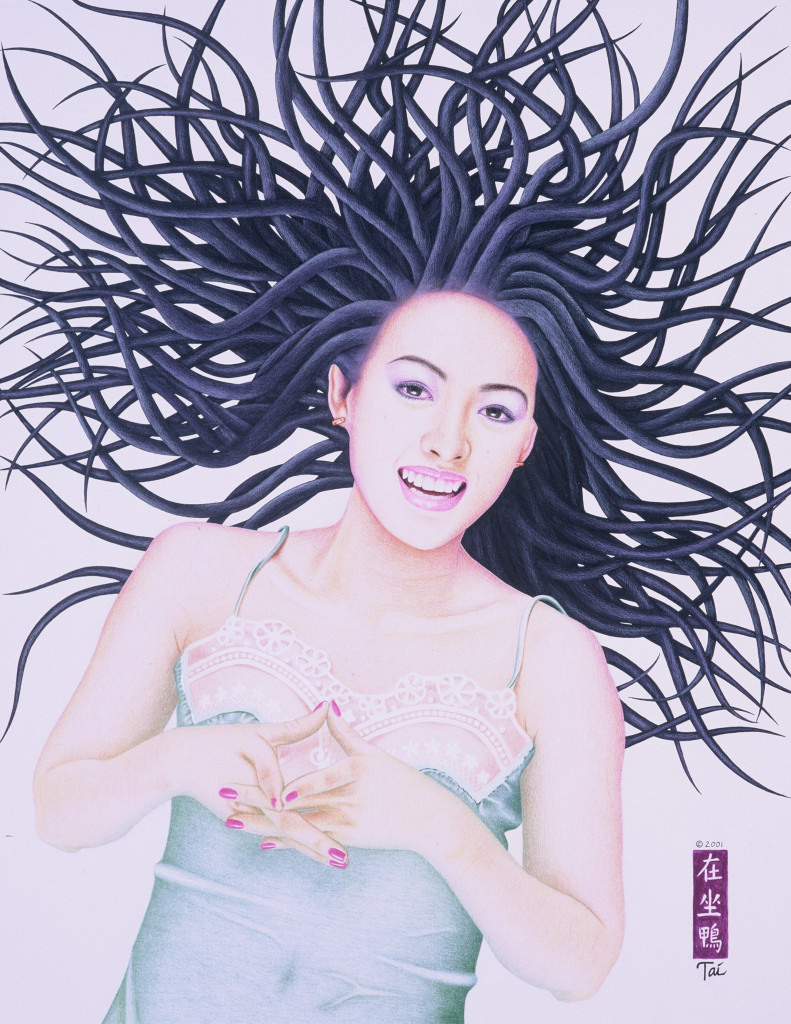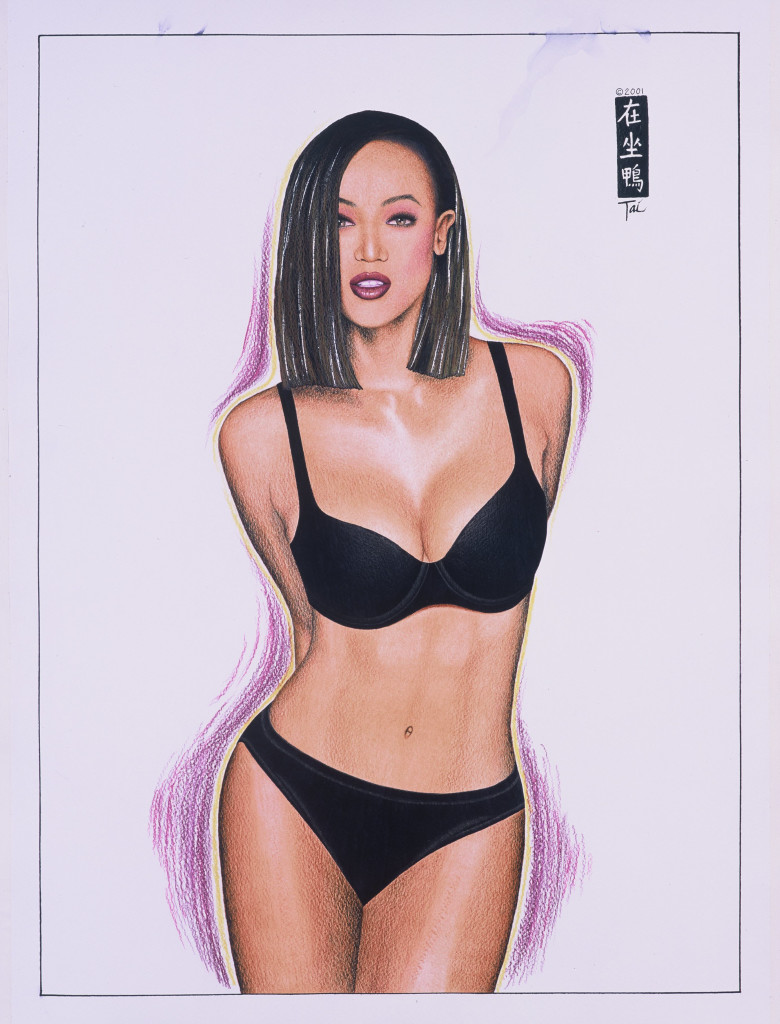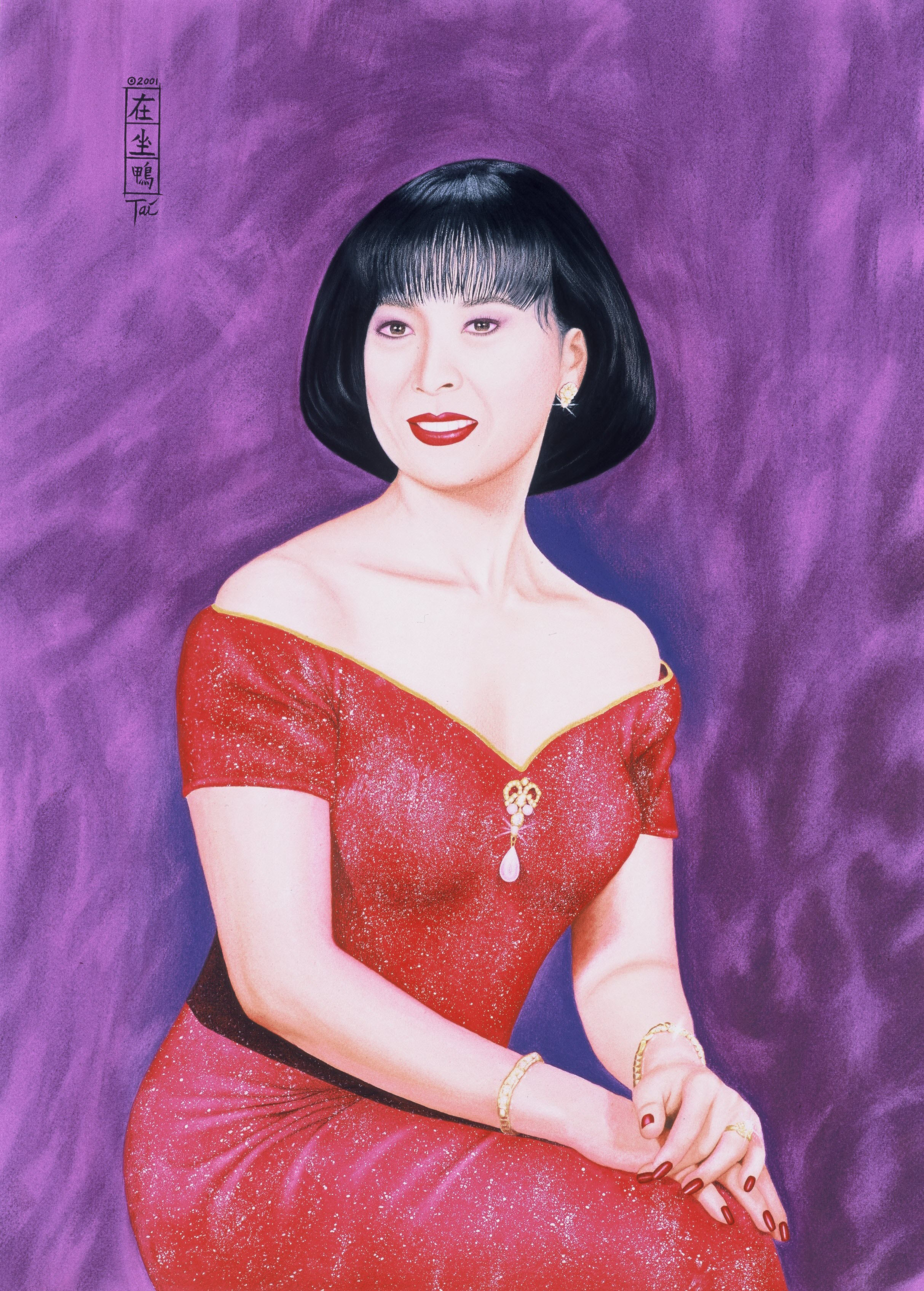 These 4 queens was the longest art project I have ever done.  Each queen required 2 months of work totaling 8 months for the entire project.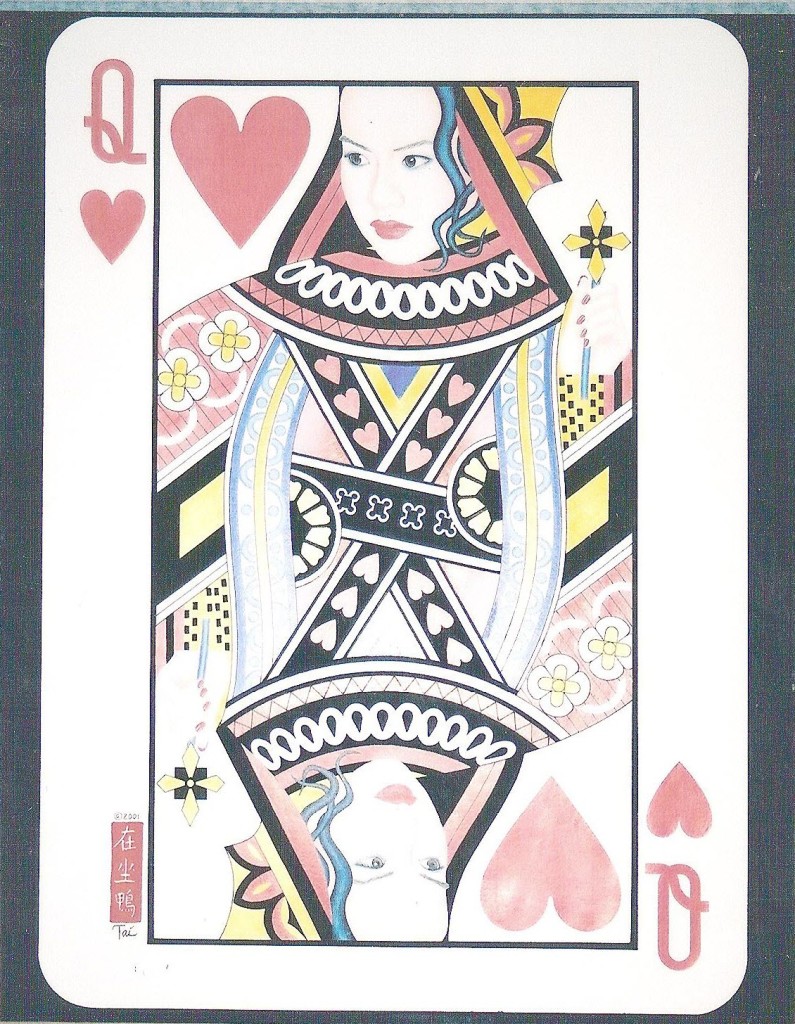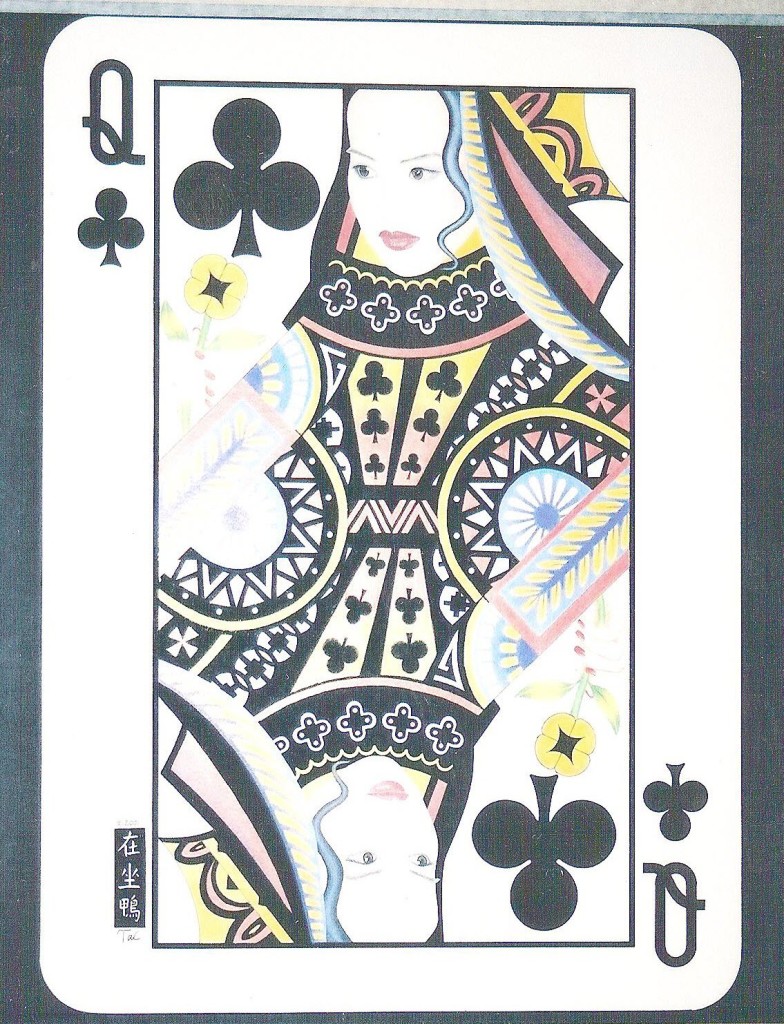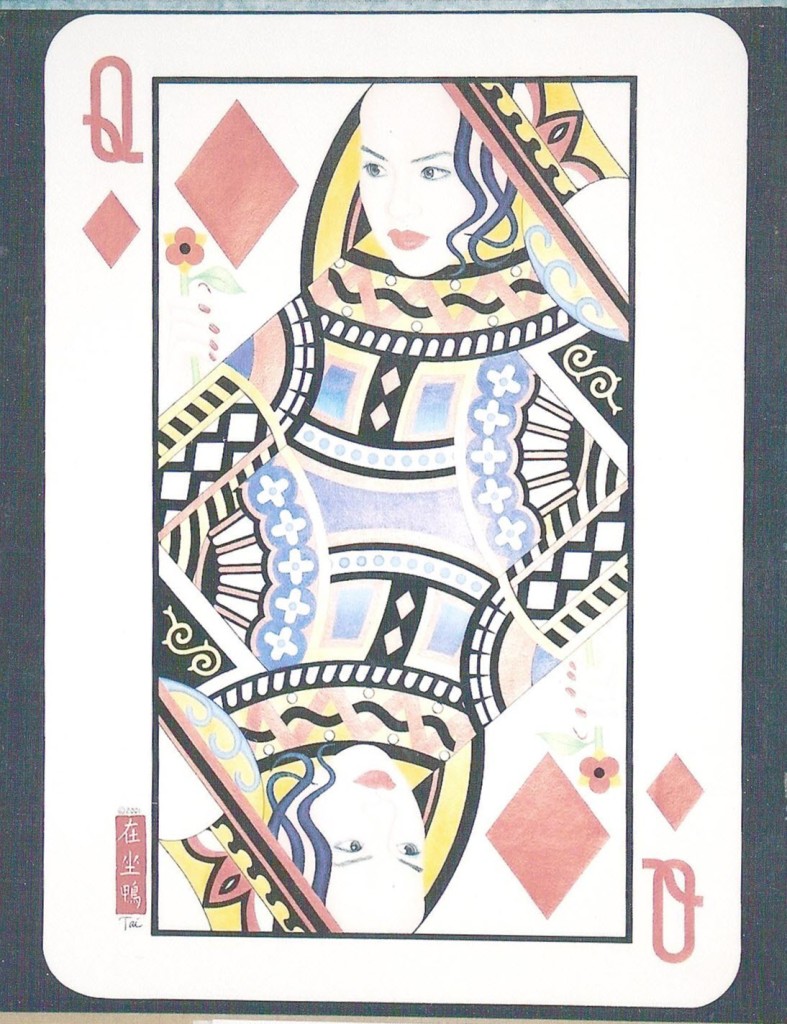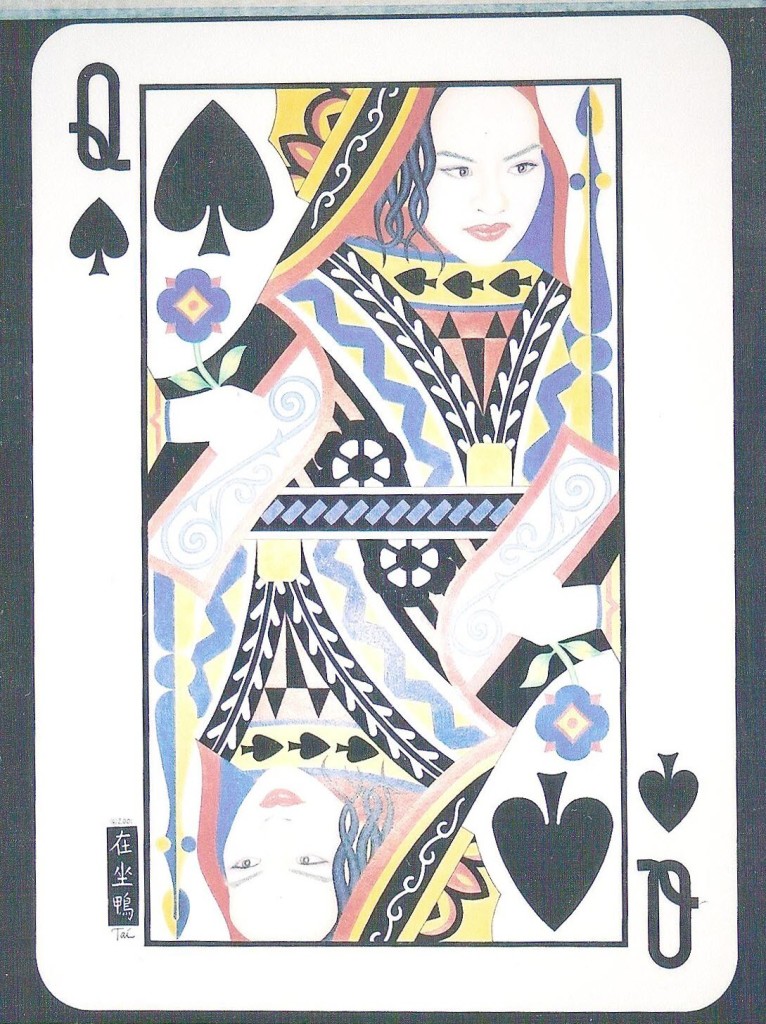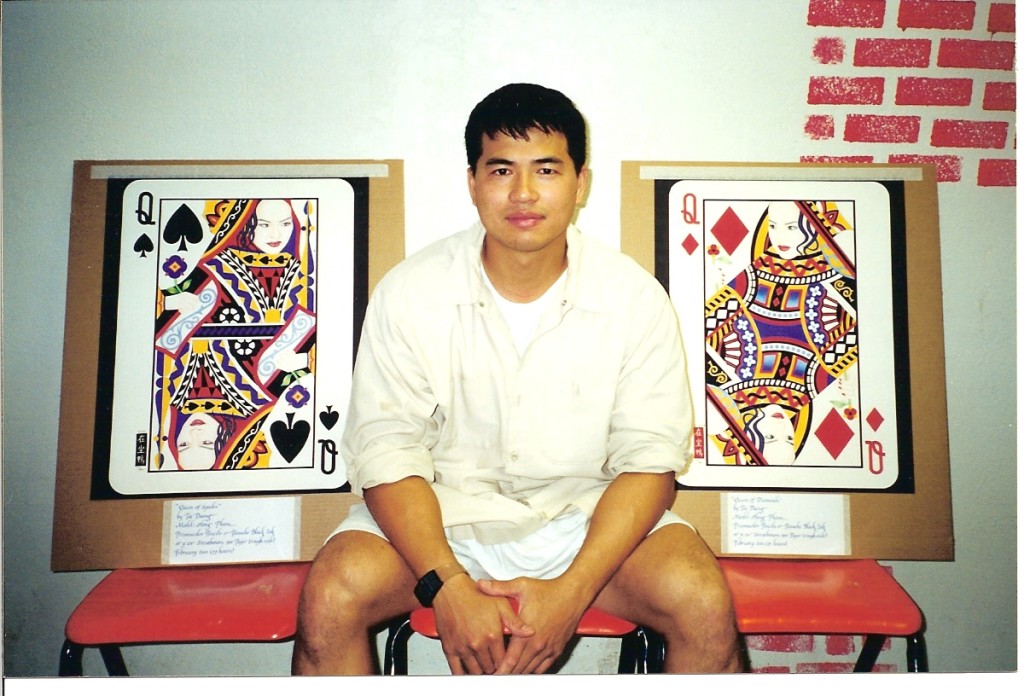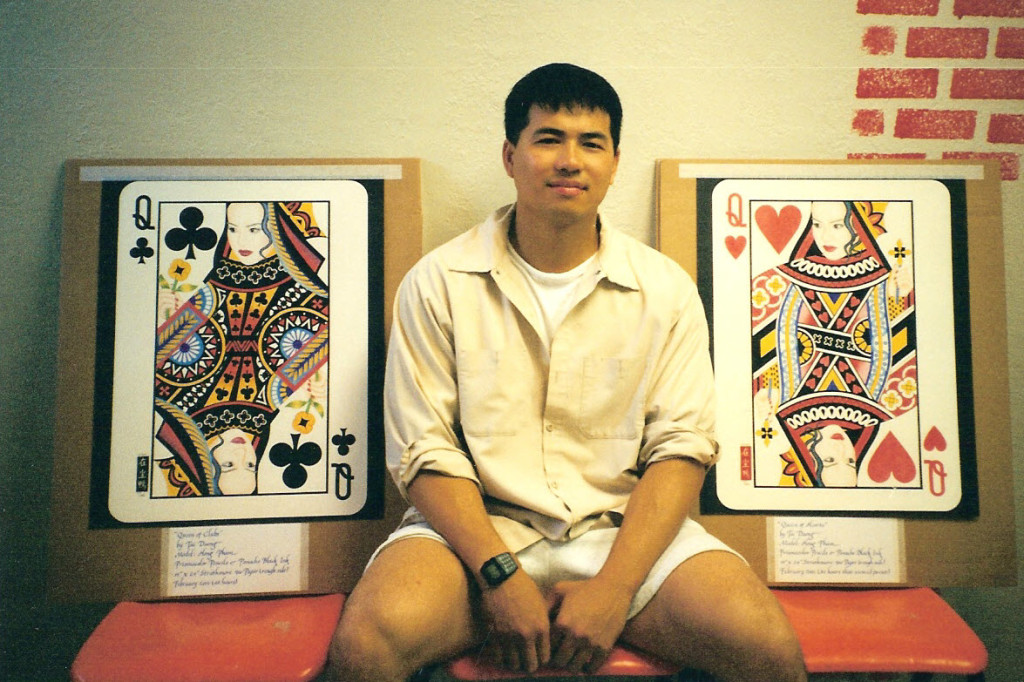 In addition to Father Bauta, I had a neighbor named Joe C. who also made a huge impact on my art skills.  In addition to his positive words of encouragement, he generously allowed me to use his paints, brushes, charcoals and a ton of other art supplies back when I could not afford them.
I painted the following portrait of his daughter Sabina C. to thank him for all his support: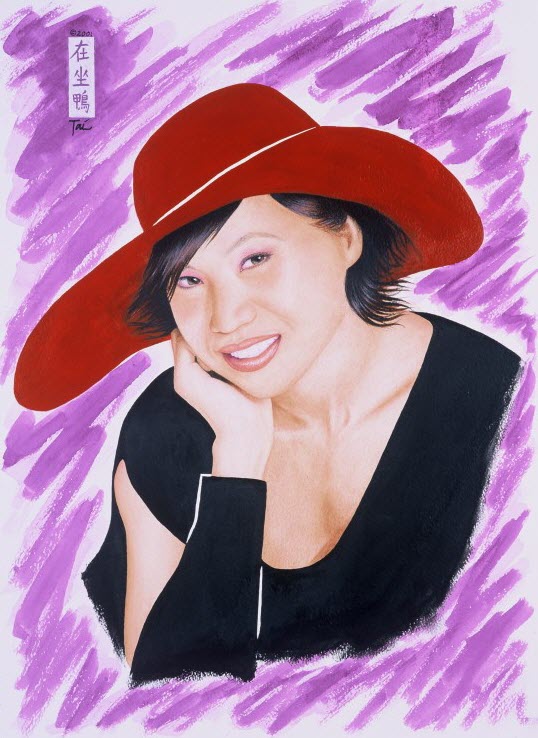 Oil Portfolio
This painting of Cindy Crawford was my first oil painting.  Unfortunately, my little sister lost it somehow in Austin, Texas while she was moving.
I believe it was stolen from her apartment during the move so if anyone sees this painting anywhere please let me know.  It is the only painting I have ever done in which I don't know where it is.  🙁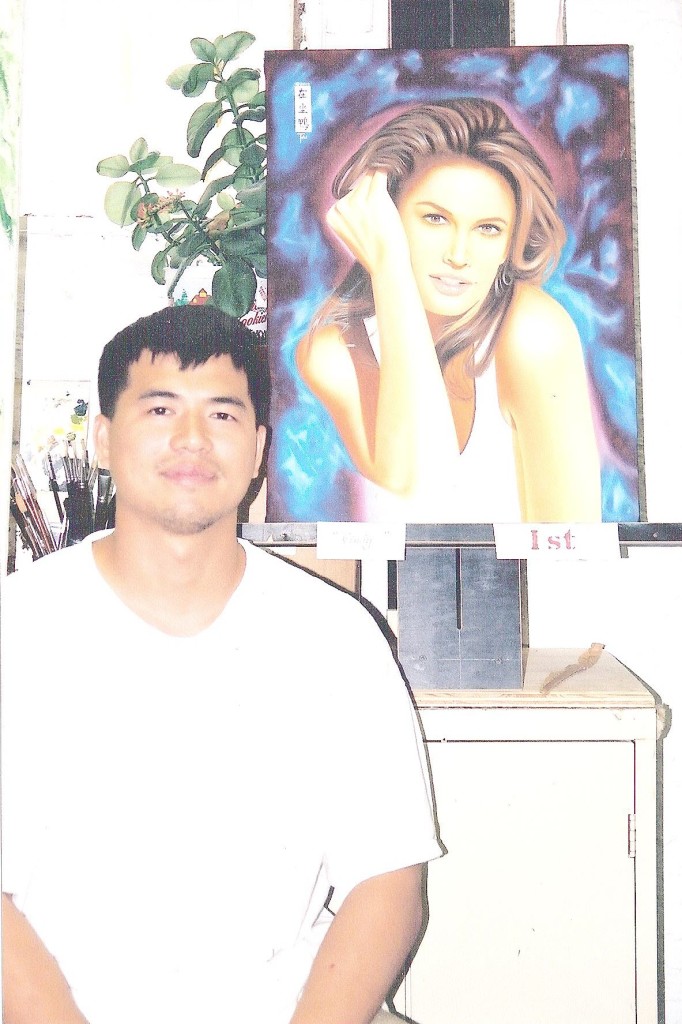 Fortunately, my little sister did take a high resolution photo of the painting before it went AWOL!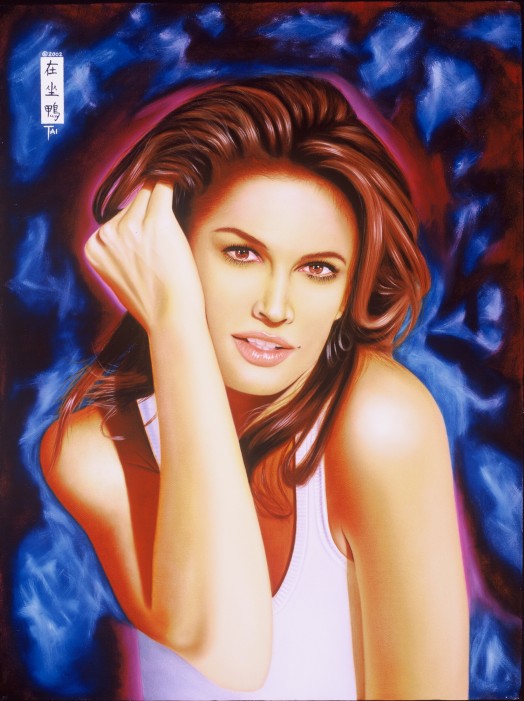 I was not very happy with the first portrait I did for my neighbor Joe C. so after I learned how to paint in oils, I repainted his daughter Sabina C. in oils and liked it much better.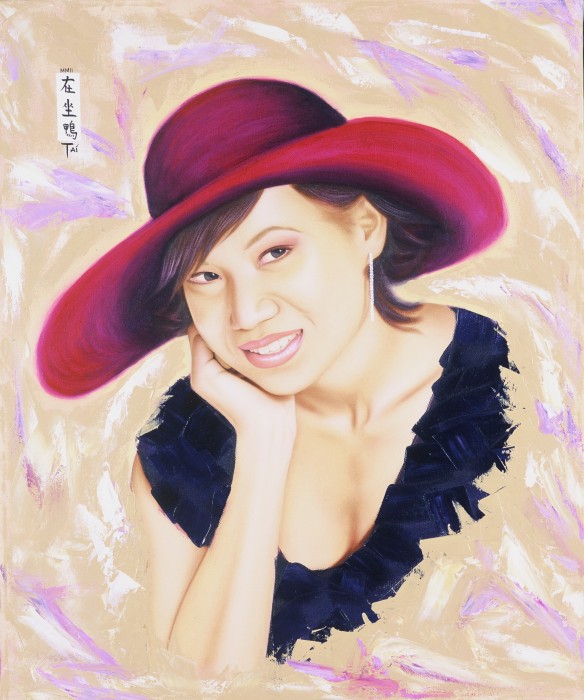 The martial art of Wing Chung believes humans are born with two hands and we should be able to use them both efficiently.  The concept of being righ handed or left handed is a "man made" concept and does not happen with other animals in nature.
The butterfly knives (short swords) are the traditional blade weapons in Wing Chun and utilizes both hands.
Here is another oil painting in which I combine the martial art, weapons and girl I like into one painting: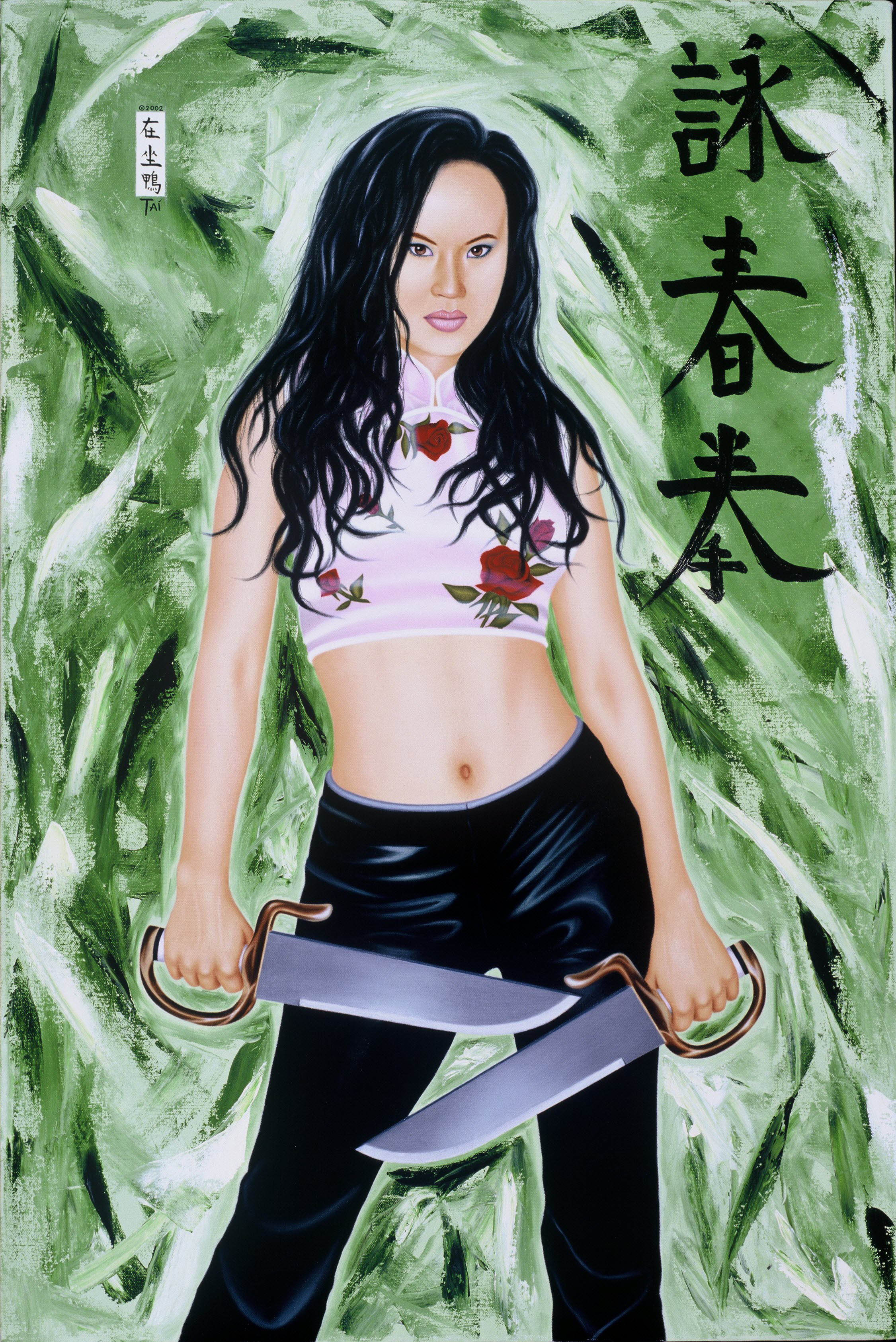 … and another with Hong and the Wing Chung wooden dummy again: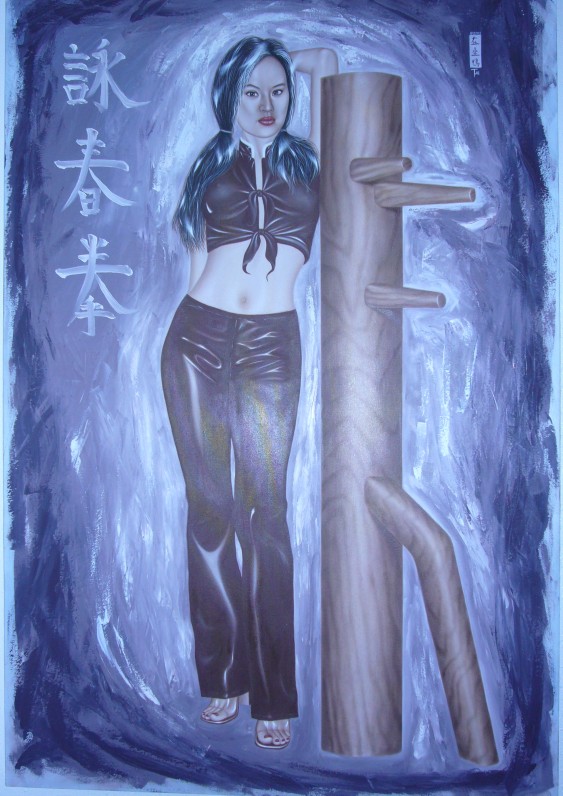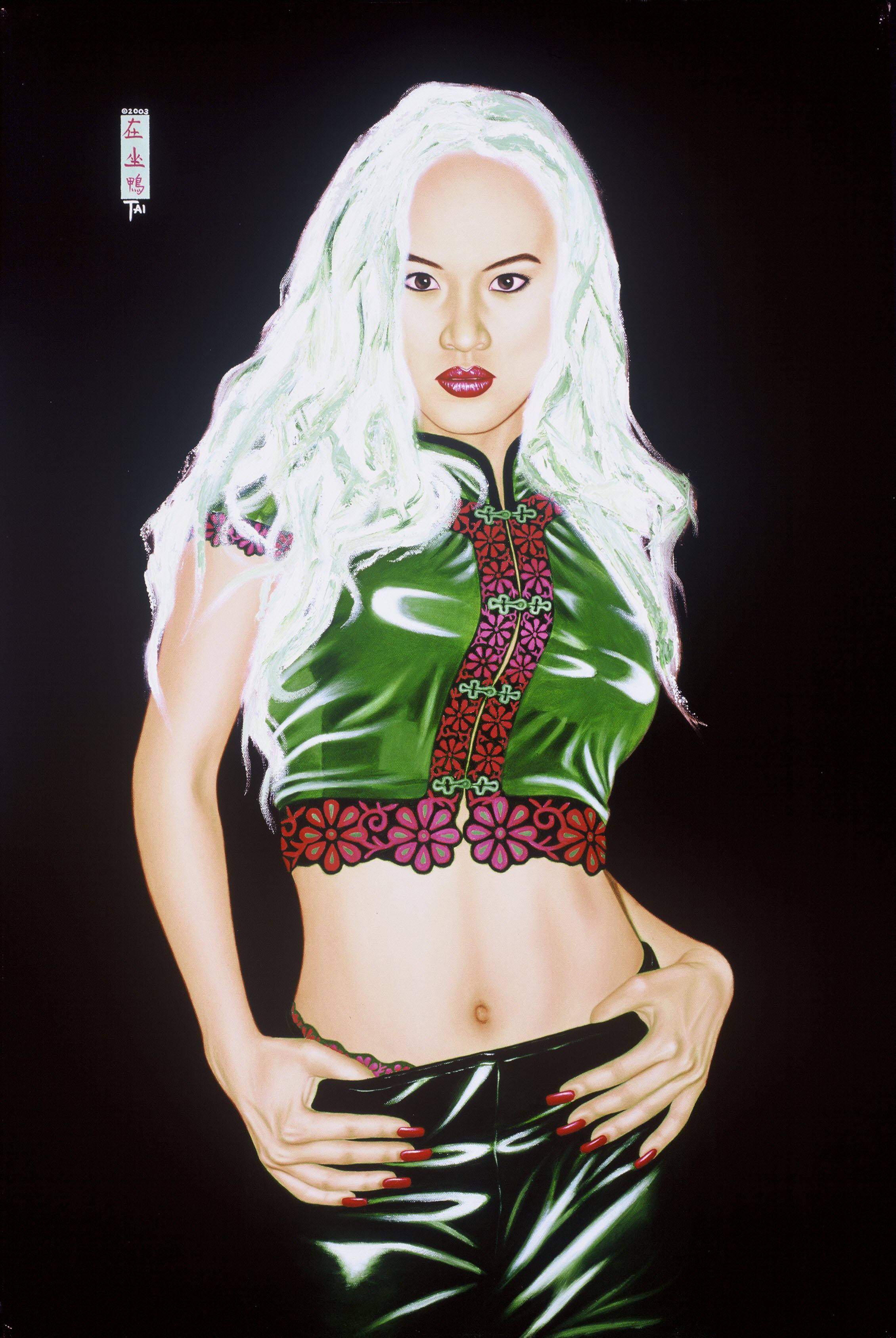 Here are some religious murals I did for Father Bauta's church: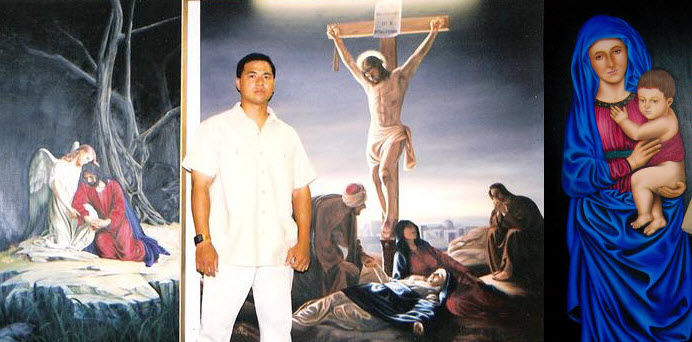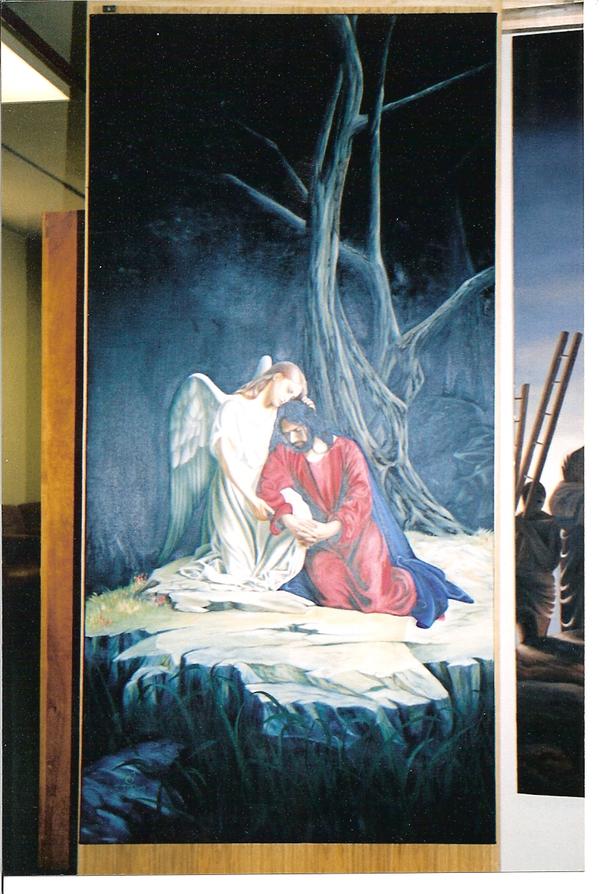 Once, a surfer from California hired me to paint a magnificent wave from South Africa for his living room: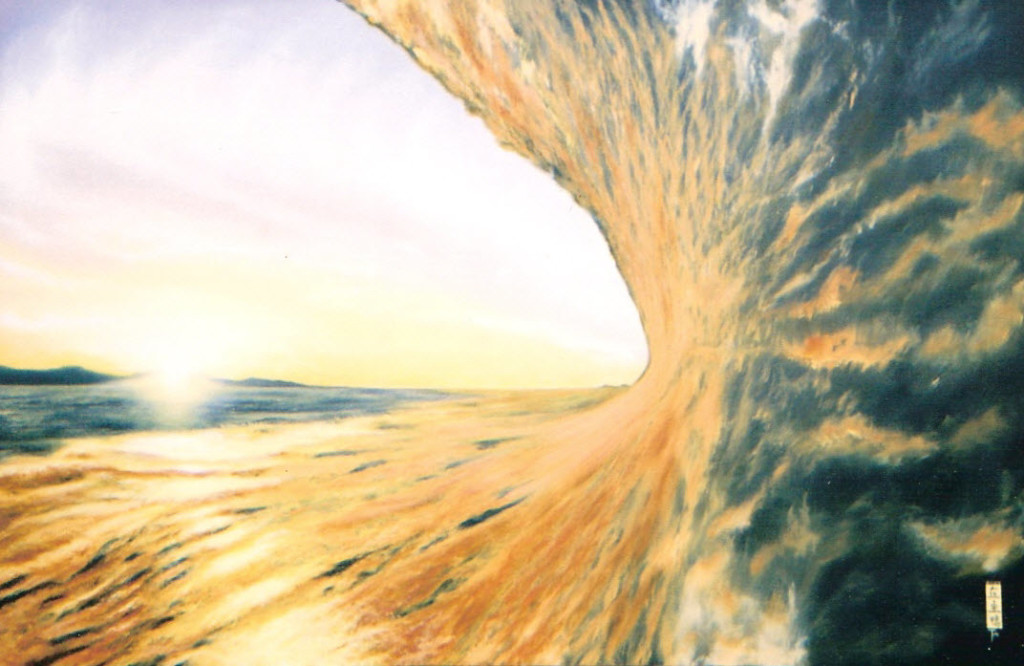 It was a huge painting (over 6 foot long) and I mixed more oil paint then I needed and didn't want to be wasteful so I painted a smaller version of the same wave for myself using the leftover paints.
Unfortunately, I didn't have enough paint to do it in color and it was much smaller (only 24″ long):
Woman with big asses was a huge craze during the late 1990's and early 2000's and one of my students asked me how to paint women with big butts so I did the following demo for my students.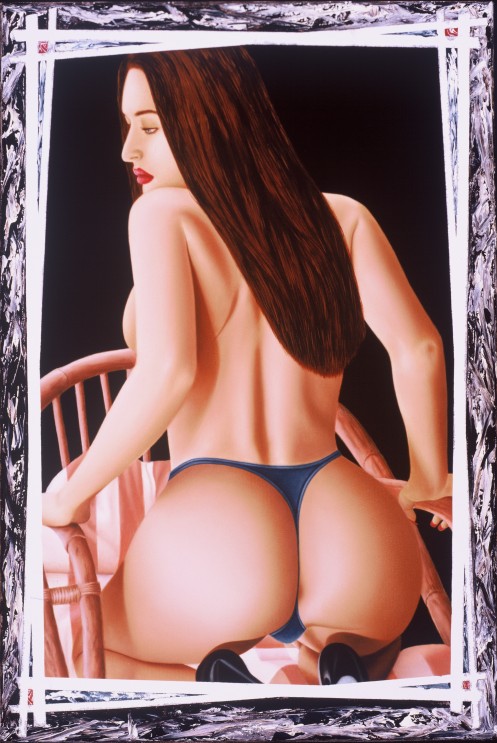 I named the painting "Persimmons" because her ass looked like a sweet and juicy persimmon! 🙂
A Cuban from Florida who was a big fan of Jennifer Lopez & Beyonce because of their huge asses later saw my Persimmons painting and hired me to do the following painting of Beyonce for his bachelor pad: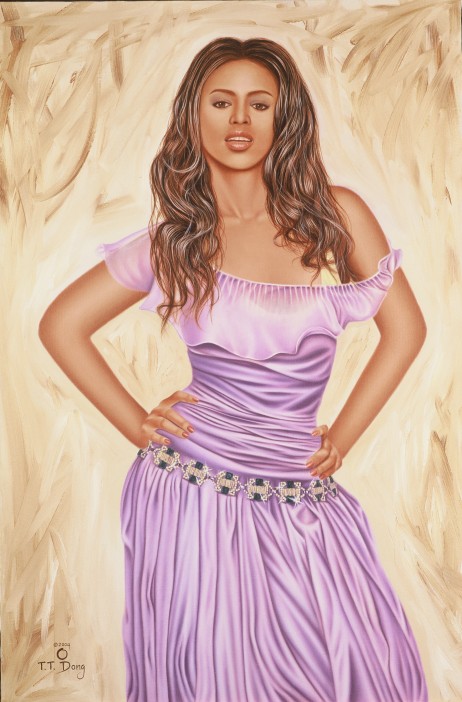 Here is a snapshot of the painting after I had just finished the skin tones and started work on the dress: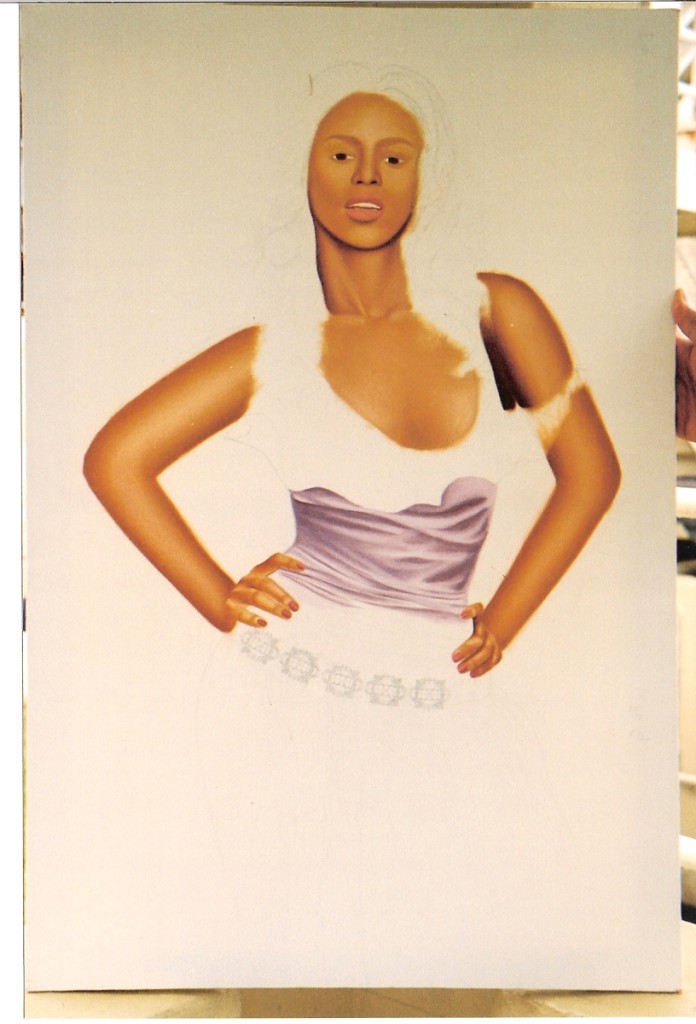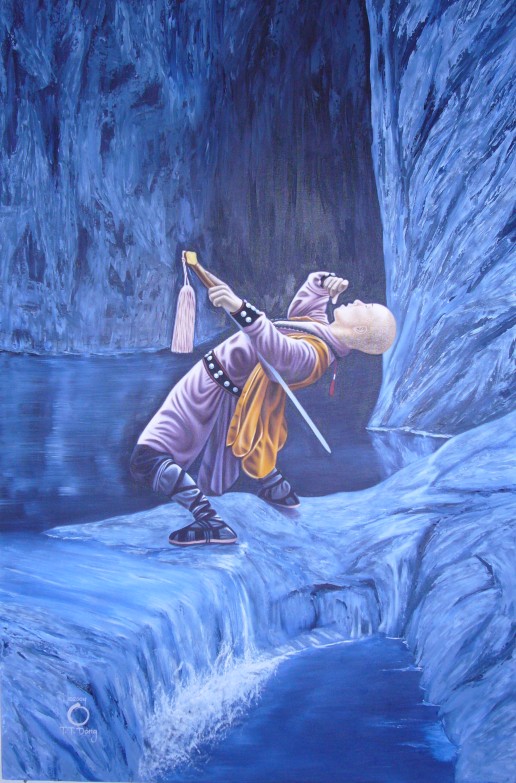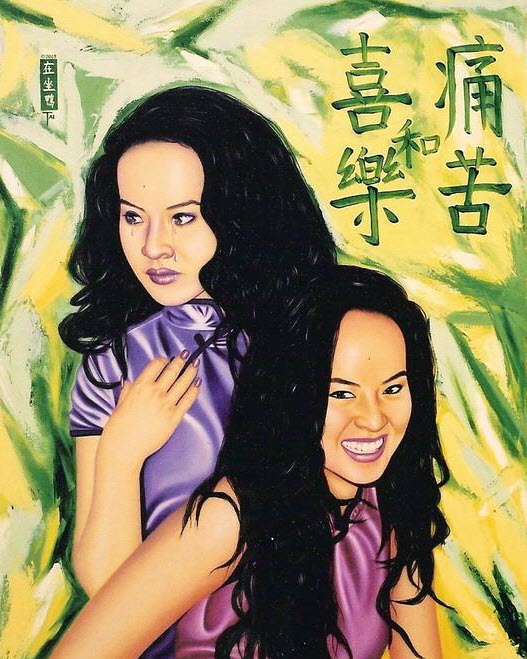 I have always been a huge fan of Bob Ross and think that he is the greatest art teacher in human history since he has inspired more people to pick up a brush and paint then anyone I know.  This landscape was a tribute to Bob Ross using his painting methods: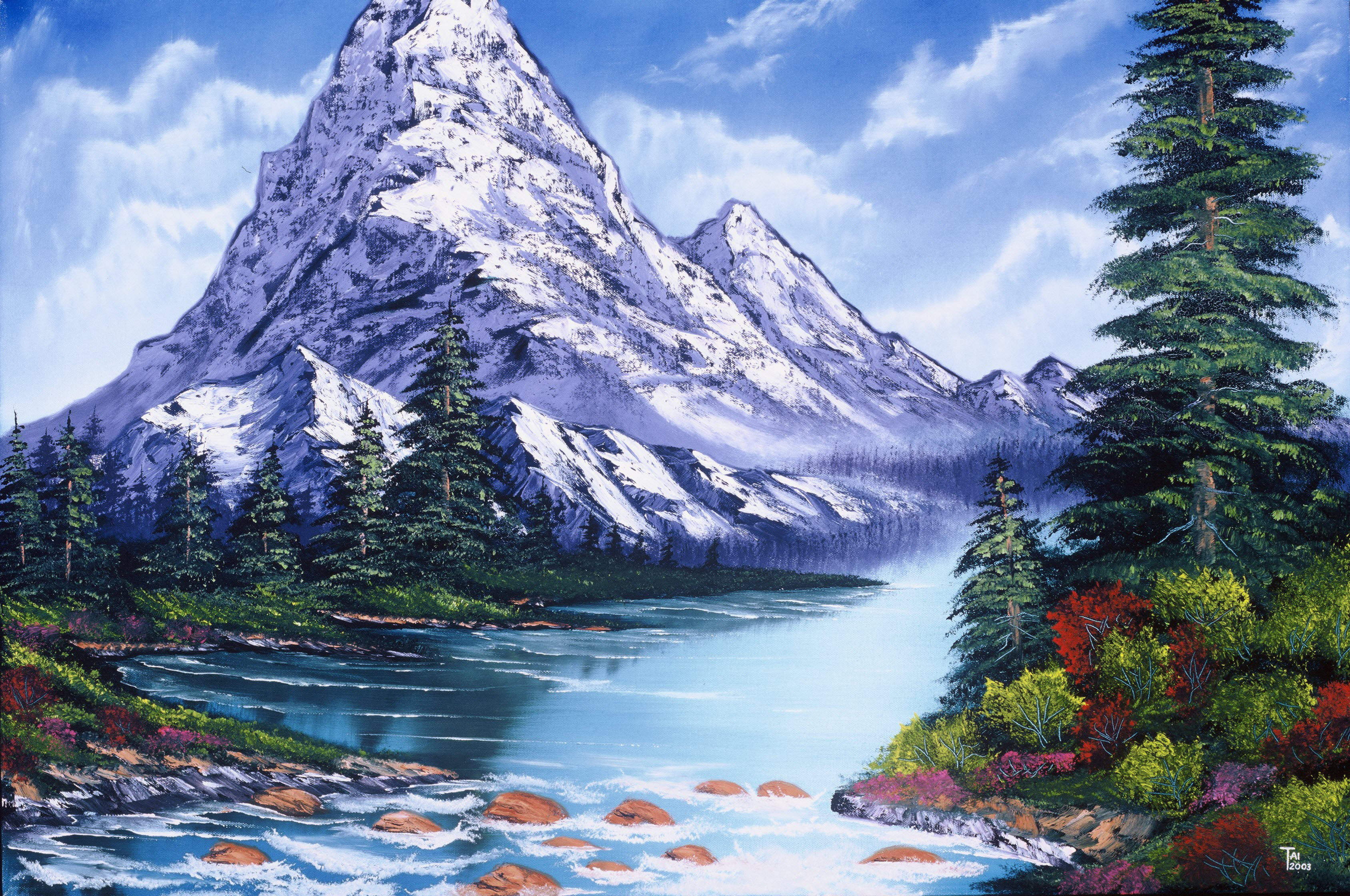 A gentleman from Florida saw my Bob Ross landscape and asked me to paint a replica of the following seascape for him: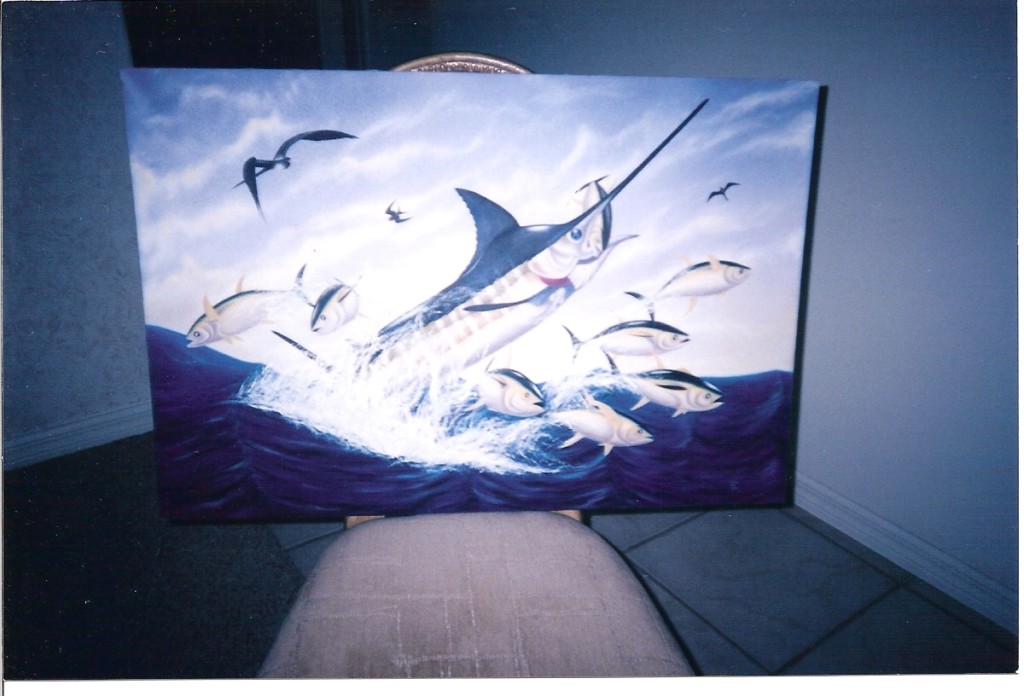 Acrylic Portfolio
Here are some murals I did when I was still an amateur artist.